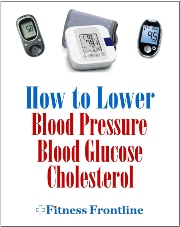 HOW TO BLOOD PRESSURE,
BLOOD GLUCOSE AND CHOLESTEROL
THE METABOLIC HEALTH PROGRAM
High blood pressure, high blood glucose and high blood cholesterol levels (along with high percent body fat and a low level of aerobic fitness) are the most common markers of personally-generated metabolic dysfunction. They are not diseases, just symptoms of a body in metabolic meltdown.
In a nutshell you're in poor physical health. Well get yourself back into good physical health!
Metabolic dysfunction has a cause and there's a good chance it can be found, the problem fixed and poor health restored to good - providing you know where to look and the prescription involves you doing something to yourself.
The medical industry has built its reputation on masking the symptoms and then telling you everything is OK. If you believe that you'll believe in faeries at the bottom of the garden. You know, intuitively, that high blood pressure, cholesterol and blood sugar are just symptoms of a body that's not in good condition. Start doing what ever needs doing to get your body back into good physical condition and your blood pressure, cholesterol and blood sugar will look after themselves.
Being personally generated there is a high likelihood that metabolic dysfunction can be personally 'ungenerated'.

Work on the principle that when you're in good physical these metabolic markers will be normal.
High blood pressure is definitely not caused by a lack of :
Diuretics
Beta-blockers
ACE inhibitors
Angiotensin II receptor blockers
Calcium channel blockers
Alpha blockers

Alpha-2 Receptor Agonists
Combined alpha and beta-blockers
Central agonists
Peripheral adrenergic inhibitors
Blood vessel dilators, or vasodilators
Blood pressure becomes elevated by trying to pump the same volume of blood through a blood vessel that has been constricted. Smaller pipe, higher pressure, it's as simple as that. So one of the great health quests for maintaining a normal, healthy blood pressure is to stop the bore of your blood vessels from getting smaller.
| | |
| --- | --- |
| Normal blood pressure | High blood pressure |
Arteries can become constricted due to
| | |
| --- | --- |
| • | nervous tension - due to an over-stimulated sympathetic nervous system and an under-stimulated parasympathetic nervous system |
| | |
| • | chronic and acute metabolic dysfunction relating to the degraded function of key organs of the body |
| | |
| • | dysfunction within the endocrine system - particularly the thyroid gland |
| | |
| • | a build up of plaque on the blood vessel walls |
If the volume of blood increases, or the extent of the arterial network becomes greater (as in when people become fatter), the pressure will go up as well.

High blood cholesterol levels are not caused by a lack of:
Advicor
Altoprev
amlodipine-atorvastatin
Antara
atorvastatin
Caduet
cholestyrami
Cholestyramine
cholestyramine-aspartame
Colestid
Colestid


Colestipol
Crestor
Endur-Acinfenofibrate micronized
fenofibrate nanocrystallized
fenofibrate
fenofibric
Fenoglide
Fibricor
fluvastatin
Lescol
Lescol XL


Lipitor
Lipofen
LiptruzetLivalo
Lofibra
lovastatin
Mevacor
niacin
Niacor
Niaspan
pitavastatin
Pravachol
pravastatin
Prevalite

Questran
Rosuvastatin
Simcor
simvastatin
Slo-Niacin
Tricor
Triglide
Trilipix
Vytorin
Zetia
Zocor
Cholesterol is a white waxy substance. 70% of the cholesterol in our bodies is produced in the liver from whatever food we eat, particularly the garbohydrates. The other 30% comes from what we eat, principally, especially foods high in saturated fats. The body needs it in optimal amounts for the efficient operation of cell membranes.

If the body can't get rid of the cholesterol that is excess to its requirements, then the level builds up and may eventually be deposited within the arteries of the heart.
Taking cholesterol lowering drugs before you've exhausted all avenues to get yourself back into exceptionally good condition is not a wisest thing to do. For starters there are the side effects - which you can look up for yourself on the internet. Then, as soon as you stop taking the medication the cholesterol level goes up again. Duh!
And then there are the research results that hide the fact that an enormous number of people need to be treated to save one heart attack.
Keep yourself fit and healthy, eat wisely and don't smoke and you lower your risk of metabolic dysfunction dramatically.

Don't fall for the trick of masking this symptom of metabolic dysfunction with a pill.

High blood glucose levels are not caused by a lack of:
Actos
Amaryl
Avandamet
Avandia
Aylide
Bydureon
Byetta
Daonil
Diabex
Diaformin
Diamicron

DiaprideDimirel

Formet
Forxiga
Galvumet
Galvus
Gilmepiride
Gliclazide
Glimel

Glucobay
Glucohexal
Glucomet

Glucophage
Glucovance

Glyade MR
Glyade
Invokana
Janumet
Januvia
Juvicor
Kombiglyze

Melizide
Mellihexal

Metforbell

Metformin

Minidiab

Nesina Met
Nesina
Nidem
Onglyza
Oziclide MR
Trajenta Duo
Trajenta Met
Trajenta
Victoza
The principal risks for adult onset diabetes are
1. a garbohydrate (yep, that's a 'g' not a 'c') diet and
2. a lack of regular, vigorous physical activity - aerobic and strength training.
The principal symptoms are a low level of aerobic fitness, low level of strength and a high percent body fat. Rarely, if every will a doctor measure aerobic fitnes or strength.
The garbohydrates, mainly flour and sugar cause an elevation of blood glucose levels, which stimulate an increased production of insulin in the pancreas.
The glucose in the blood is destined for use in working muscles. If the muscles are not active enough to burn up the glucose, it is left to an over-worked pancreas to pump out more and more insulin. Too many years of this and the pancreas gives up and becomes dysfunctional. You end up with sustained high blood glucose levels.
The over-production of insulin is also the principal cause of fat being deposited around the body. Eat from the top of the Hourglass and get 800 aerabytes a week.

RESTORING METABOLIC FUNCTION TO NORMAL

Not many doctors are going to be blunt enough to read you the riot act and tell you to start exercising in a way that dramatically reduces these symptoms - let alone give you an exercise prescription that includes a dosage based on time and effort - or supervise it.
Rarely, if ever will they give you an inner mental training program to relax your body from the inside. In fact it's doubtful they will know what an inner mental training program is.
They'll tell you to lose a few pounds, start walking around the block, retire the salt shaker, slow down a bit and keep taking your medication. If it's still high after that, 'We'll increase the dosage'.

What they'll rarely do is give you a systematic, scientifically formulated lifestyle oriented, metabolic health normalizing prescription that includes:
| | |
| --- | --- |
| • | an aerobic fitness training program based on the Aerabyte Aerobic Fitness prescription. |
| | |
| • | a strength training program |
| | |
| • | the Hourglass Diet and a fat loss program |
| | |
| • | dietary supplements - including vegetables, vitamins and minerals |
| | |
| • | an emotional relaxation program, including meditation and inner mental training |
| | |
| • | a muscular relaxation program |
The metabolic health restoration program
This three month program starts with the Health, Fitness and Wellbeing Check-up which will give you a very good idea of your metabolic health.
At the end of the check-up we'll lock you into the following programs so you'll know exactly what to keep doing:
| | |
| --- | --- |
| l | Health, Fitness and Wellbeing Check-up |
| | |
| l | Complete Fitness Workout |
| | |
| l | Hourglass Diet |
| | |
| l | an inner mental training program designed to stimulate your para-sympathetic nervous system. |
You'll receive a complete suite of ebooks and audio files, all designed to assist you to move heaven and earth to lower your blood pressure, blood sugar and blood cholesterol levels naturally.
---
Fitness Frontline a Division of Miller Health Pty ltd
7 Salvado Place, Stirling ACT 2611 Australia
(02) 6288 7703