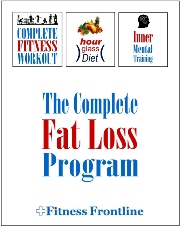 THE COMPLETE FAT LOSS PROGRAM
When you embark on the Complete Fat Loss Program, we'll introduce you to the Hourglass Diet, the Complete Fitness Workout and the Inner Mental Training program.
The Hourglass Diet
The Hourglass Diet has been developed to help you work out how to eat to nourish the cells of your body without fattening yourself up.
As a means of doing that you need to have a clear distinction between what's good food and what's junk food. You need more of the good food and less of the junk food.
THE HOURGLASS DIET MODEL
In a nutshell, it's good food at the top of the Hourglass and junk down the bottom.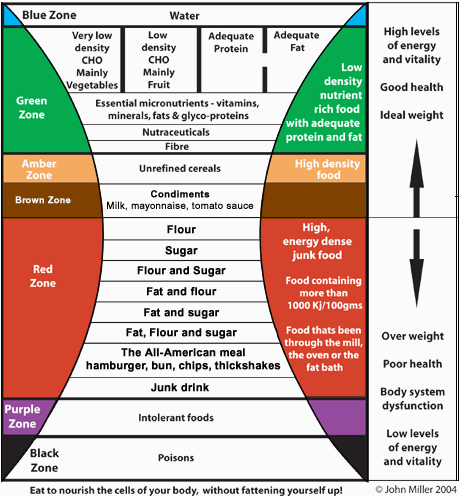 The essential aspect of good nutritional guidelines is that they encourage you to
• eat to nourish the cells of your body
• satisfy your hunger
• maintain an ideal weigh and
• • support good metabolic, musculo-skeletal and psychological health.
Couple the Hourglass Diet with regular vigorous exercise and you'll certainly be rewarded with good health.
If you're not in good health and you find it easy to put on weight, change your eating habits and eat from the top of the Hourglass.
| | |
| --- | --- |
| • | Eat adequate amounts of vegetables and fruit. |
| | |
| • | Eat adequate protein and fat |
| | |
| • | Eat less of the high density refined garbohydrates, the cereal-based foods like bread, pasta, breakfast biscuits, biscuits and cake..., along with eating less sugar and deep fried potato. |
Once you've tried out the Hourglass way of eating you will be in a good position to decide exactly how to eat wisely for the rest of your life. For most people this means becoming very circumspect about the amount of flour and sugar in their diet, and getting the right amount of fat, protein, micronutrients and fibre.
Benefits of eating from the top of the hourglass
| | |
| --- | --- |
| • | You'll be eating to nourish the cells of your body, and not just fill up your stomach. |
| | |
| • | You'll feel better, have more energy and vitality - less flour, more power! |
| | |
| • | You'll have less headaches. |
| | |
| • | You'll have less body fat. That means you'll get closer to your ideal weight. |
| | |
| • | There's a fair chance your blood pressure will decrease. |
| | |
| • | You'll have better control of your blood sugar and cholesterol levels. |
| | |
| • | You'll have a more efficient elimination system. |
| | |
| • | You'll have lower incidence of bowel disease, constipation and piles. You'll be getting rid of the waste products of your own metabolism and the waste products of a toxic environment with ease. |
| | |
| • | You'll have better mental acuity and concentration - and less likelihood of becoming depressed. Few people realize that aspects of depression are physiologically generated. |
| | |
| • | You'll have a musculo-skeletal system that functions better. If you get enough of the omega 3 fats you're less at risk of becoming arthritic. If you've got arthritis you'd be a mug not to load up on omega 3 fats. |
| | |
| • | You'll have a stronger immune system |
The Hourglass Diet seminar
When you join the complete fat loss Program you'll receive an invitation to attend the one-hour hourglass diet seminar. The program isn't a glorified recipe book, just good down to earth eating advice about how fit and healthy people have been eating since time immemorial.
Eating manufactured food made from combinations of fat, flour, sugar and potato is a relatively recent phenomenon - and you'd better be aware of what every bit of fast, faster and fastest food is doing to you.
For starters most manufactured food contains a huge calorie buck for every bite. When two kilograms of carrots packs as about as much energy as 100gms of chocolate or peanuts, you have to have your fat detecting antennae switched on 24/7.
How to eat wisely
We'll show you how to eat wisely in a junk food world.
In fact we'll tell you our definition of junk food.
There's every chance that if you eat wisely and exercise with vigor on a daily basis, within three months you will have made dramatic progress in achieving your fat loss goals.
And there's more
We want you to come away from this seminar with a changed outlook on how to eat wisely.
You'll receive the Hourglass Diet ebook and an inner mental training audio file designed to keep you focused on eating from the top of the hourglass and exercising with vigor.
The Complete Fitness Workout
We'll introduce you to the Complete Fitness Workout and the Aerabyte Aerobic Fitness Prescription to guide you in how much exercise you need to do each week to keep the scales going down. There are two aspects to weight lose exercise - aerobic exercise and strength training exercise. You need both.
THE AEROBIC FITNESS MODEL
Most aerobic exercise programs either lack sufficient vigor, or they're too short or not often enough to make an impact on weight loss. There are few over weight people who exercise most days of the week, for 40 minutes with their heart rate above 140.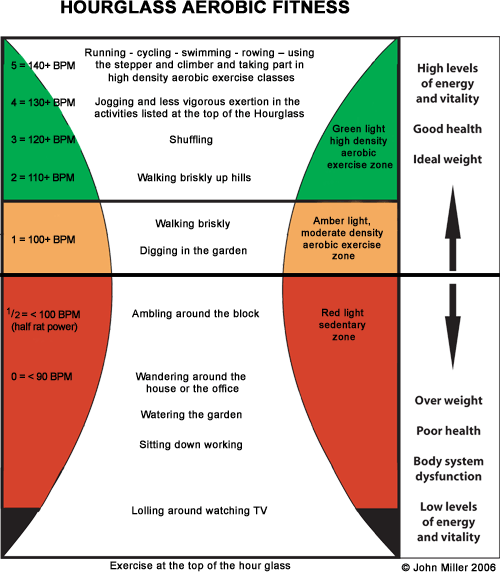 Whilst the exercise examples in the Hourglass Aerobic fitness model are walking, shuffling, jogging and running any aerobic exercise - on a bike, eliptical, stepper, climber or in a swimming pool - done often enough, for long enough and with sufficient vigor will have the same effect.
Don't expect a rapid loss of fat from your body by ambling around the block for 10 minutes, three times a day.
STRENGTH TRAINING
Strength training is an important aspect of a fat loss program. The greater your muscle mass and the more often you train your muscles the faster you'll lose fat from your body.
The Complete Fitness Workout contains a strength training program that promotes fat loss as well as good musculo-skeletal health.
Inner Mental Training
Through introspection, meditation, reflection, contemplation, inner mental training and autosuggestion we have the ability to change what's going on in the sub-conscious. You can, metaphorically change the program, get rid of 'stuff' that's holding you back and put into your subconscious mind new 'stuff' that's congruent with what you want in your conscious mind.

If conscious and unconscious minds are locked into a negative belief pattern, life is a struggle.

Using inner mental training and autosuggestion, there's a likelihood that the subconscious mind can be reprogrammed for success. Conscious and sub-conscious minds are of the same mind.

At the Fitness Frontline we have a range of inner mental training audio files to help you reprogram your sub-conscious mind to help you get what you want.
The three month Complete Fat Loss program starts with the Health, Fitness and Wellbeing Check-up and includes participation in the Complete Fitness Workout.
You'll receive a copy of these Complete Fitness Workout and Hourglass Diet ebooks and an inner mental training audio file.
---
Fitness Frontline a Division of Miller Health Pty ltd
7 Salvado Place, Stirling ACT 2611 Australia
(02) 6288 7703