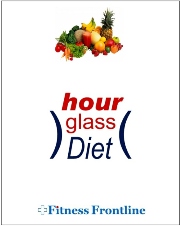 EAT FROM THE TOP OF THE HOURGLASS
The Hourglass Diet has been developed to help you work out how to eat to nourish the cells of your body without fattening yourself up.
As a means of doing that you need to have a clear distinction between what's good food and what's junk food. You need more of the good food and less of the junk food.
THE MODEL
In a nutshell, it's good food at the top of the Hourglass and junk down the bottom.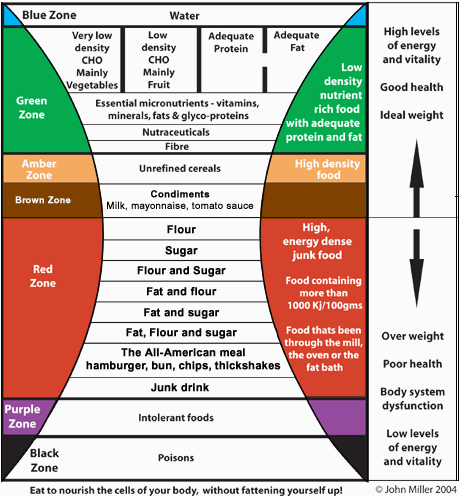 The essential aspect of good nutritional guidelines is that they encourage you to
• eat to nourish the cells of your body
• satisfy your hunger and
• maintain an ideal weigh
• • support good metabolic, musculo-skeletal and psychological health.
Couple the Hourglass Diet with regular vigorous exercise and you'll certainly be rewarded with good health.
If you're not in good health and you find it easy to put on weight, change your eating habits and eat from the top of the Hourglass.
| | |
| --- | --- |
| • | Eat adequate amounts of vegetables and fruit. |
| | |
| • | Eat adequate protein and fat |
| | |
| • | Eat less of the high density refined garbohydrates, the cereal-based foods like bread, pasta, breakfast biscuits, biscuits and cake..., along with eating less sugar and deep fried potato. |
Once you've tried out the Hourglass way of eating you will be in a good position to decide exactly how to eat wisely for the rest of your life. For most people this means becoming very circumspect about the amount of flour and sugar in their diet, and getting the right amount of fat, protein, micronutrients and fibre.
Benefits of eating from the top of the hourglass
| | |
| --- | --- |
| • | You'll be eating to nourish the cells of your body, and not just fill up your stomach. |
| | |
| • | You'll feel better, have more energy and vitality - less flour, more power! |
| | |
| • | You'll have less headaches. |
| | |
| • | You'll have less body fat. That means you'll get closer to your ideal weight. |
| | |
| • | There's a fair chance your blood pressure will decrease. |
| | |
| • | You'll have better control of your blood sugar and cholesterol levels. |
| | |
| • | You'll have a more efficient elimination system. |
| | |
| • | You'll have lower incidence of bowel disease, constipation and piles. You'll be getting rid of the waste products of your own metabolism and the waste products of a toxic environment with ease. |
| | |
| • | You'll have better mental acuity and concentration - and less likelihood of becoming depressed. Few people realize that aspects of depression are physiologically generated. |
| | |
| • | You'll have a musculo-skeletal system that functions better. If you get enough of the omega 3 fats you're less at risk of becoming arthritic. If you've got arthritis you'd be a mug not to load up on omega 3 fats. |
| | |
| • | You'll have a stronger immune system |
The seminar
In one hour were going to give the full appreciation of how to eat wisely in a junk food world. The program isn't a glorified recipe book, just good down to earth eating advice about how fit and healthy people have been eating since time immemorial.
Eating manufactured food made from combinations of fat, flour, sugar and potato is a relatively recent phenomenon - and you'd better be aware of what every bit of fast, faster and fastest food is doing to you.
For starters most manufactured food contains a huge calorie buck for every bite. When two kilograms of carrots packs as about as much energy as 100gms of chocolate or peanuts, you have to have your fat detecting antennae switched on 24/7.
How to eat wisely
We'll show you how to eat wisely in a junk food world.
In fact we'll tell you our definition of junk food.
We'll also show you how to eat wisely on a cruise liner. We pride ourselves on serving good wholesome food that comes right from the top of the Hourglass.
OK, there's food from down the bottom of the hourglass as well, but this is 'treat stuff' not 'main course stuff'.
There's every chance that if you eat wisely and exercise while you're on board you can go home lighter than when you arrived. You don't have to stuff yourself just because there's plenty of food around.
And there's more
We want you to come away from this seminar with a changed outlook on how to eat wisely.
You'll receive the Hourglass Diet ebook and an inner mental training audio file designed to keep you focused on eating from the top of the hourglass - valued at $27.
For those who attend the seminar we'll have trained vigilante squads prowling the dining tables of every restaurant on the ship ready to pounce when food from the bottom of the hourglass touches your lips. (Just kidding.) We'll teach you to be your own vigilante squad.
The other offer we have for you is that if you come to the gym with your Hourglass Diet voucher we'll give you some advice on what to do to improve your general fitness, show you around and get you started on an exercise program. Less food and more exercise is a winning health, fitness and wellbeing combination.
You'll receive copies of these three ebooks: